I recently conducted an informal survey on a climbing focused Facebook page to determine if what gear I perceive out on our frozen cliffs is an accurate representation of what people are actually carrying.
---
I wasn't too surprised to see the overwhelming majority was using alpine draws (two carabiners and a thin style Dyneema sling clipped in a fashion that allows it to be used short or extended to full length).
In this short opinion post, I aim to convince the majority to re-think their winter "draw" set-up and hopefully gain a bit of efficiency in the process.
Most of us year-round climbers have converted over to these sleek "alpine draws" featured on the left side of the photo above for our traditional and alpine style rock climbing kit. Carrying "shoulder-length" nylon runners over our head with or without a carabiner pre-attached has largely fallen out of style in the last ten or more years (and for good reason IMO). So if you are an "alpine draw" user anyways why should you do anything different for ice climbing? I'd suggest you consider the following;
Drag
Rope drag is not as much of an issue when ice climbing for two reasons. First, rope running over ice/snow creates almost no friction unlike rock. Second, it is easy to arrange protection on a pure ice climb so that it runs almost straight from belay to belay. On most ice routes you almost never need to extend an alpine draw to mitigate friction. The average quick draw offers almost a foot of extension, giving you a 2 foot wide "corridor" of protection with zero increase in friction.
Convenience/Efficiency
Clipping the rope to the draw after clipping the screw is a place where I often see new ice leaders struggle. An alpine draw flops around and does not stay put making clips with gloves on more difficult. Clipping while ice climbing is much more similar to sport climbing where you want a quick fluid clip vs. moderate trad climbing where you could probably just use both hands if you needed to. Having a rigid rope-end carabiner on your ice quick-draws is ideal, and I prefer the larger gate ones like the Petzl Ange L on all my "ice draws". Efficiency is also gained when the second cleans the screw, as like sport draws rack quicker and easier than alpine draws, especially if they have been "extended" due to perceived friction.
Summary
Just because your system is dialed for traditional rock climbing and alpine doesn't mean the same system is optimized for waterfall ice climbing. There are definitely outliers when a few alpine draws would be a good idea (not straightforward ice climbing, mixed routes, traverses, etc). I typically carry 1 or 2 alpine draws on these routes and know where I will use them. The rest of my "draw" rack is 8 ultralight quick-draws set up like this:
Screw hanger end carabiner- Petzl Ange S Carabiner– the smaller Ange here is about the lightest most compact choice you can make for the screw hanger side of the quick-draw. Since it is the hanger side it does not need a large gate opening and the MonoFil Keylock wiregate system adds security and clears ice easily.
"Dogbone"- Petzl 17 cm Finesse Sewn Sling– Super lightweight but the real advantage of this over other nylon sport quick-draws is the Dyneema won't absorb water like nylon so you will experience less "frozen draws" when using these.
Rope end carabiner- Petzl Ange L Carabiner– The larger carabiner on the rope end facilitates both clipping with gloves on and those who climb on double ropes occasionally.
The above set up isn't the cheapest quick-draw solution out there but I think it is the nicest. At retail this set up runs about $30.85 per quick-draw. You can definitely save some money but getting the pre-built Petzl Ange Finesse Quickdraws.
These pre-built draws will save you about $5 per quick-draw, you just give up the larger rope end carabiner. If you climb with two ropes often it may be worth going for the larger rope end carabiners.
---
My current optimized draw-rack
8 Petzl Ange Finesse Quickdraws with Petzl Ange L Carabiners on rope end
2 "Alpine Draws" made with Petzl Ange S Carabiners and Mammut Dyneema Contact 8mm Slings
I also carry one cordelette and two "Mini-Quads" that can be used for slinging trees, building anchors, etc.
I hope this short post gets you thinking about your "ice kit" a little. You really don't need all those extendable alpine draws in a pure ice climbing setting. And you'll definitely save some energy clipping ropes with a stiff sport-style quick-draw!
See you in the mountains,
Northeast Alpine Start
---
Recent Featured Content:
---
In other news!
I'm honored to have made this list of the "Top 30 Ice Climbing Blogs"!!!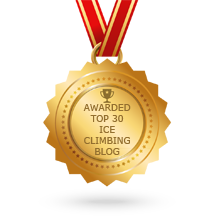 Pretty blown away to be listed alongside bloggers/climbers like Will Gadd and Ong Strong!
Affiliate links help support this blog at no cost to you!
And if you read this whole thing here's a TBT cheese video I made 5 years ago when apparently I was still climbing with screamers…